The management: always an open ear for your wishes and ideas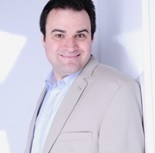 Andreas Pörtner
MSc. BBA, Managing Director & Senior E-Commerce Consultant
Mobile 0170/5805472, E-Mail ap@digital-business-partner.eu
The owner and managing director Andreas Pörtner has been active in the e-commerce and IT sector for many years. With experience gained from more than 400 projects in the e-business and new media environment as well as from various own projects, he can look back on a profoundly practical background. He gained the necessary theoretical knowledge by studying international business administration with a focus on marketing in the Netherlands, as well as a master's degree in excellence in New Media Management at Danube University Krems (Austria). In addition, he passed a certification as a "Certified Web Business Manager" at the Webmasters Academy in Nuremberg.
Today, Andreas Pörtner works primarily in the areas of business analysis, coaching, strategy development, agency selection and software evaluation and advises international companies and online retailers.
We will gladly send you the current CV incl. project history by e-mail upon request.