Start now in B2B E-commerce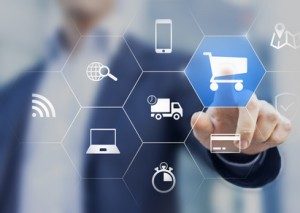 Our B2B e-commerce seminar deals with the various issues of electronic commerce between companies. The aim of the seminar is to give participants a comprehensive overview of the possibilities, approaches, technologies and systems of B2B e-commerce. Particular focus is placed on the topics B2B shop systems, marketplace systems, EDI, web portals and electronic catalogs. Target group of this seminar are entrepreneurs, internet / EDI employees, project managers and IT professionals. Also suitable in preparation for the realization of a B2B e-commerce project.
Contents of the B2B e-commerce seminar:
E-Business Basics
Business models (B2C, B2B, B2x etc.)
B2B Shop Systems – Functions & Building Blocks
EDI
B2B portals
B2B marketplaces
Electronic catalogs and catalog formats
Industry-specific standards
Backend and ERP integration
Planning & implementation of a B2B e-commerce project
Next date: please send us an inquiry for the seminar plan
Duration: 1 day, 7 hours
Form: online seminar
Seminar locations for the offline seminar: Vancouver, New York, Los Angeles, Melbourne, London, Paris, Barcelona, Amsterdam, Rome (please send us an inquiry for the seminar plan)
Seminar package: 690,00 € plus VAT per participant
Participants: maximum 5
Certificate: Certificate of Attendance
Registration: by e-mail to seminars@digital-business-partner.eu
Interested? Just send us an inquiry without any obligation. We'll be happy to help.