What is ITSM?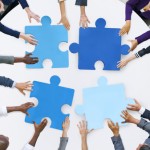 IT Service Management (ITSM) is the set of measures and methods needed to achieve the best possible business process (GP) support from the IT organization. In this respect, ITSM describes the change in information technology for customer and service orientation. Significant is the assurance and monitoring of the business services visible for the customer IT services. In this way, the efficiency, quality and profitability of the respective IT organization can be continuously improved.
We support you in choosing your ITSM solution
digital business partner has more than 14 years of expertise in software evaluation and consulting in the ITSM environment. We accompany our customers from the first idea, through the collection of requirements, the definition of strategies, the market screening and software selection up to the accompaniment during the software introduction. We also have extensive experience in public and non-public tendering. With our extensive international market expertise, we find exactly the solution that suits your situation and your company. A wide range of competencies brought together for your success.
The topics digital business partner covers when evaluating an ITSM solution
Support in the ITSM analysis
Implementation of an ITSM audit / ITSM assessment
Advice on the introduction of ITSM software
Derivation of ITSM optimizations and recommendations
Creation of an individual ITSM requirement catalog
Getting a first overview with our ITSM market overview
Creating ITSM specifications together with your stakeholders
Derivation of ITSM project plans
Consulting and implementation of ITSM tenders (ITSM software RfI, ITSM software RfP, ITSM software RfQ)
Advice and support of EU tenders
Conducting individual ITSM seminars, ITSM workshops and ITSM trainings
The ITSM systems we have already had experiences with
ServiceNow
USU valuemation
fresh service
Open Service Catalog Manager
matrix42
BMC Remedy
OTRS
Interested? Just send us your inquiry without obligation via our online form. We are happy to help.
Inquiry ITSM consulting