Find the right ERP solution for your company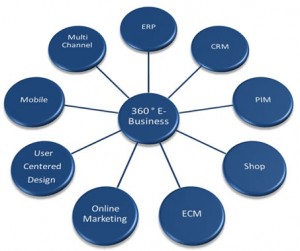 An ERP (Enterprise Resources Planning) is the heart of every business. Here are all important components and functional blocks anchored that a company needs for good performance. In total there are more than 800 suppliers of ERP software for SMEs and more than 200 providers of Enterprise ERP solutions in the European software market. The ERP software market is characterized by profound changes: from own operations to SaaS / Cloud, from digitization of trade to new legal frameworks (new EU data protection regulation as of 2018). But the link with e-commerce, marketing and CRM solutions is also increasingly important.
We support you in choosing your ERP solution
digital business parnter has more than 14 years of expertise in software evaluation and consulting in the field of ERP software and merchandise management systems. We accompany our customers from the first idea, through the collection of requirements, the definition of strategies, the market screening and software selection up to the accompaniment during the software introduction. We also have extensive experience in public and non-public tendering. With our extensive international market expertise, we find exactly the solution that suits your situation and your company. A wide range of competencies combined for your success.
The topics digital business partner covers when evaluating an ERP solution
Support in ERP analysis
Implementation of an ERP audit / ERP assessment
Advice on the introduction of ERP software
Derivation of ERP optimizations and recommendations
Creation of an individual ERP requirement catalog
Providing a first overview with our ERP market overview
Creation of ERP specifications together with your stakeholders
Derivation of ERP project plans
Consulting and implementation of ERP tenders (ERP RfI, ERP RfP, ERP RfQ)
Advice and support of EU tenders
Implementation of individual ERP seminars, ERP workshops and ERP trainings
The ERP systems we have already worked with
SAP
Lexware
Infor
Microsoft Dynamics / Navision
Comarch
actindo
legend
Oracle
myfactory
alpha plan
abas
godesys
and many more
Want to know more? Just send us an inquiry without obligation via our online form. We are happy to help.
Request ERP consulting