What is Digital Asset Management (DAM)?
A Digital Asset Management System is a CMS that manages and provides digital assets (files) such as text documents, contracts, images and videos. Many digital asset management systems also focus on media asset management or video asset management for image, sound and video management.
There are several DAM solutions on the market. We have made it our mission to find and implement the best solution for your company. Web-based DAM solutions have also been increasingly used in recent years. These are becoming increasingly popular because they offer "subscription" models that work well for companies with limited budgets or IT resources. If you are interested in such a DAM system, you should not lose sight of the importance of data security for your business.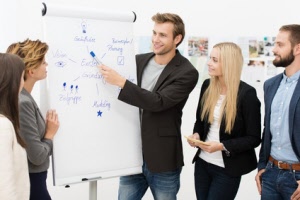 We support you in choosing your DAM solution
digital business partner has more than 14 years of expertise in software evaluation and consulting in the field of Digital Asset Management. We accompany our customers from the first idea, through the collection of requirements, the definition of strategies, the market screening and software selection up to the accompaniment during the software introduction. We also have extensive experience in public and non-public tendering. With our extensive international market expertise, we find exactly the solution that suits your situation and your company. A wide range of competencies brought together for your success.
The topics digital business partner covers when evaluating a DAM solution
Support in DAM analysis
Implementation of a DAM audit / DAM assessment
Advice on the introduction of DAM software
Derivation of DAM optimizations and recommendations
Creation of an individual DAM requirements catalog
Obtaining a first overview with our DAM market overview
Creation of DAM specifications together with your stakeholders
Derivation of DAM project plans
Consulting and execution of DAM tenders (DAM RfI, DAM RfP, DAM RfQ)
Advice and support of EU tenders
Implementation of individual DAM seminars, DAM workshops and DAM trainings
The DAM systems we have already gained experience with
Canto cumulus
celum
censhare
Contentserv
BrandMaker
Brandmaster
bynder
pixxio
pixelboxx
NEOzenzai
WebDAM
North Plains
Fotoware
picture park
Interested? Just send us an inquiry without obligation via our online form. We'll be happy to help.
Request DAM advice