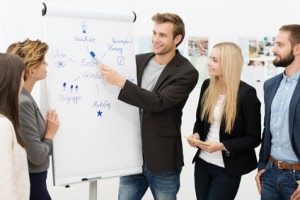 Artificial intelligence is gaining importance in more and more spheres of life. Even potential customers spend ever more time in messenger apps than in other social environments. Chatbots are not only innovative and cost-efficient, they also help steering users into the right environment. Especially with support questions, the use of chatbots can be used more cost-effectively. Chatbots are enterprise-grade robots that are able to respond to customer questions. But the uses of chatbots go far beyond mere support, because you can use your own programming work to develop and implement concepts that open up completely new dimensions in terms of customer experience.
In our chat bot seminar different customer experiences are explored in great detail to find the perfect chatbot for you.
Based on the results, a concept for the bot will be developed and tailored to the appropriate customers based on personas – this will create the ideal customer experience.
Next date: please send us an inquiry for the seminar plan
Duration: 1 day, 7 hours
Form: online seminar
Seminar locations for the offline seminar: Vancouver, New York, Los Angeles, Melbourne, London, Paris, Barcelona, Amsterdam, Rome (please send us an inquiry for the seminar plan)
Seminar package: 690,00 € plus VAT per participant
Participants: maximum 5
Certificate: Certificate of Attendance
Registration: by e-mail to seminars@digital-business-partner.eu
Interested? Just send us an inquiry without any obligation. We'll be happy to help.